The Control Unit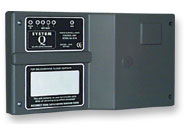 The control unit will put a picture on any connected monitor, TV or VCR in a property & from any CCTV camera. Up to 4 cameras can then switch automatically to allow surveillance of 4 areas of a property. Further extras can be added to the panel to give keyfob control, automatic recording, floodlight control & audible warning of an intruder.
...An Ideal base for any CCTV system.
If required, the system can be expanded at a later date, up to 8 cameras using the Expander Kit. Any camera can be used with the control unit but the Advanced-Vision B&W and colour cameras produce a system with stunning performance.
Features
Works with a domestic TV and VCR
Works with monitors an Timelapse VCRs
Uses low-cost 4-core cable
Terminal connections, no connectors required
Manual keypad and keyfob control options
Individual camera contrast control
Video & audio out (phono connections)
For 12V Colour and B&W cameras
With built-in camera PSU
With alarm inputs
Built-in RF modulator
Audio and video switching
Trigger output for flooding relay unit